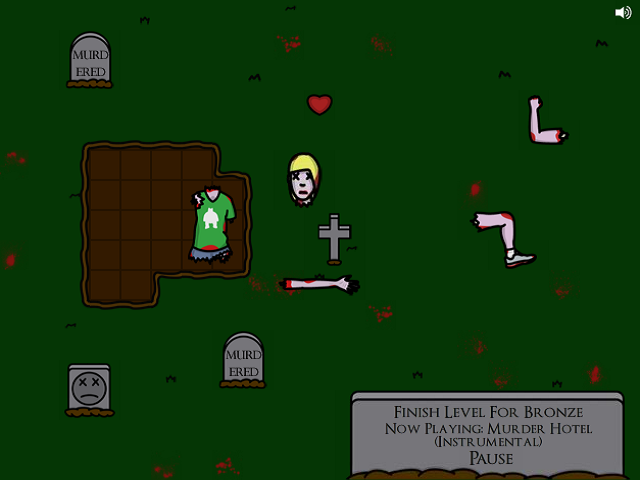 Official Game of the 2012 Polygrind Film Festival
A puzzle game developed as a form of viral advertising for the album "Musta Been Murder" by MC Randumb and Jewish Dave. Featuring cartoony graphics, a dark sense of humor, and music from the album, players must rearrange body parts to fit into the graves.
Because of the novelty of tieing an indie band's music into a game, the game received notable attention from media in the Las Vegas area, as well as from a variety of blogs related to horror films, music, or games. Beating the game unlocked a variety of unlockables, such as free downloads of old albums, and free passes to Theater 7 (an official partner of the game) in Las Vegas. Featured as the official game and an attraction at the 2012 PolyGrind Film Festival.
The game received positive attention from outside of the gaming audience; musicians, reporters, bloggers, and filmmakers were very interested in the cross promotional potential of video games. It also served as a very effective form of advertising; traffic to the band's site and online store increased tenfold for a period after the game's release.
Playable At: http://www.kongregate.com/games/Sharmandra/musta-been-murder
Released: January 8, 2012
Made With: Adobe Flash
Made For: Hired by David Rosen to make a game to promote his album
Awards: Official Game of the 2012 Polygrind Film Festival
Team:
Ryan Daugherty: Design, Art, Programming, Sound Effects
MC Randumb and Jewish Dave: Music